Record collectors come in all ages, shapes and sizes. We want to dedicate a part of this website to collectors we met along the years. We recently started following the Instagram account Eindje.Got.Soul and we were so impressed by their posts we had to ask them for this part of our website! Enjoy the read and the pictures!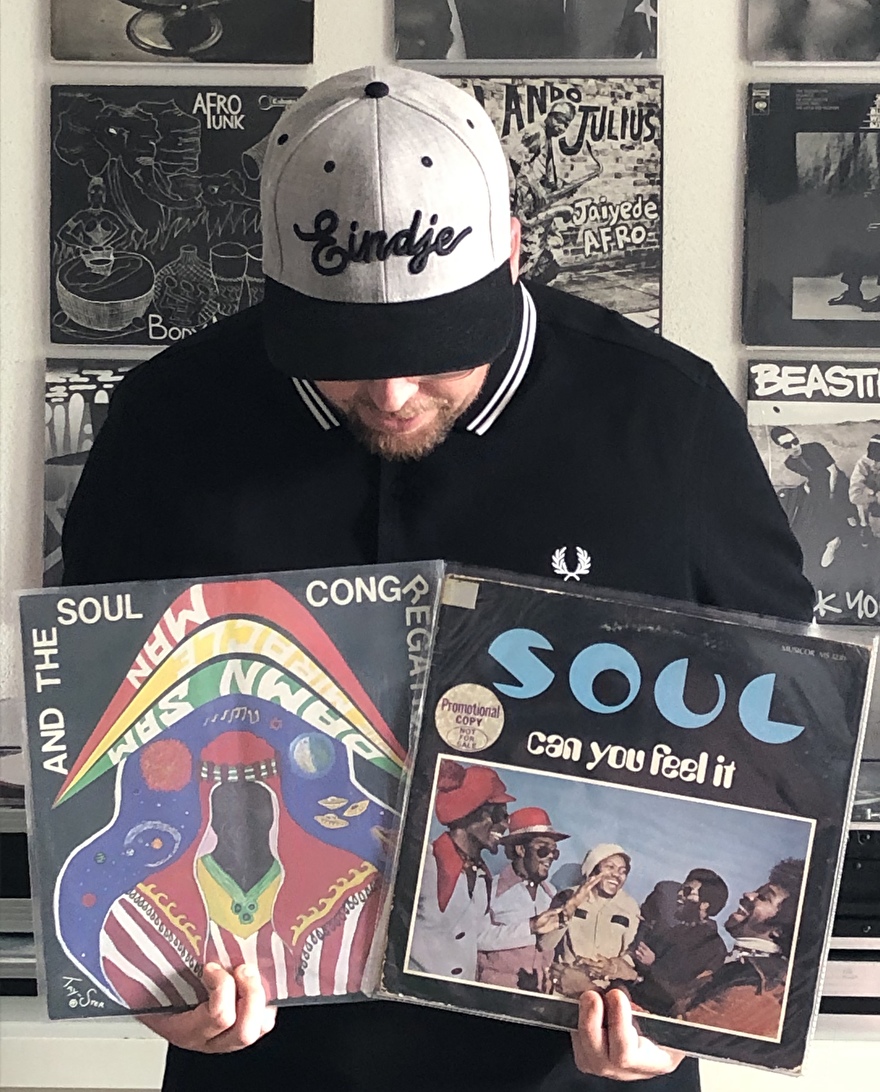 Hi my name is Bart Schraven from Eindhoven and I run the Instagram page "Eindje.Got.Soul". I started collecting a long time ago as a kid buying hip-hop and some hardcore punk and stoner records. At that time, I was Living near Nijmegen and maybe bought one album every month. I always bought albums because it was never my intention to play my records out or to DJ. Along the way I started to develop a taste for the classic breaks that were used in these hip-hop records and started buying more and more Soul, Funk, Jazz & Blues records. About 15 or maybe 20 years ago I also started collecting some 45's. By the time I was out in bars and clubs playing records, I've found out that I only wanted to plays these 45's. I think the real collecting then started. About 4 years ago I moved in with my girlfriend in Eindhoven. I got rid of 2000 records and now I'm trying to keep my collection as relevant and good as possible (quality over quantity).
I started using "EindjeGotSoul" as sort of a kickoff to get a funk & soul movement started in Eindhoven. Can't say that it's really been a success, but we had some regular spots at bars and clubs and think we made sort of a name for our self.
For our events, right now we only have one left that we named "Soulshake". The concept was made up by my girlfriend, fellow digger and music lover Ellen. She felt that at our previous parties we mostly played old Soul & Funk and she needed a more genre crossing modern thing. Her motto is: "As long it has a vinyl press and is somewhat soulish anything goes". Right now, we host our "SoulShake" nights at Bar Bistro Calypso in Eindhoven which is a great open-minded place. We always like to invite guests from around Eindhoven to play their collection out. We have a lot more concepts and events that we would like to do but the places in Eindhoven to do this are few.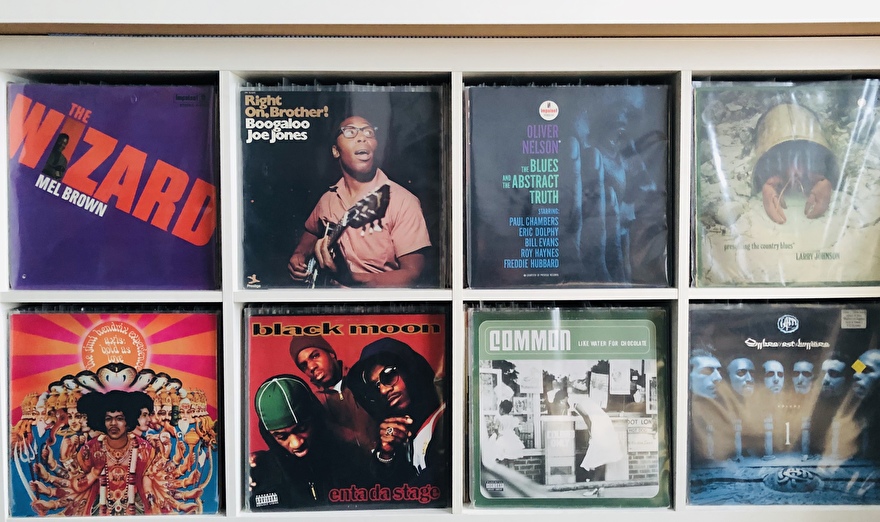 How many records are currently in your collection?

At the moment there are around 2.200 records (albums), around 8.000 45's and maybe 50 10" records. There are also a couple of 12" Maxi's but don't think there are more than 20. I've sold them all when I moved (no regrets).

Which genres of music do you have in your collection?
I started buying hip-hop records in the early nineties. That collection will forever stay with me, but it's been a long time since I've expanded that part of the collection.

During the years my taste for music got wider across genres. If you have a look at the 45's, these are for playing them out. When I play records in clubs, bars or festivals I only play 45's. The genres you'll find in my 45 collection are: Funk, Soul, Blues, R&B, Jazz, Reggae and some Garage Rock.

All the longplayers in my house are mainly used for listening. Not really collecting one genre, label or artist but just picking up what I find and like. The genres are Soul, Jazz, Blues, Hip-Hop, African, Latin, Reggae, Funk, Rock, Metal and Punk. Don't care a lot about genres if I'm completely honest but became rather good in picking up what I like to hear.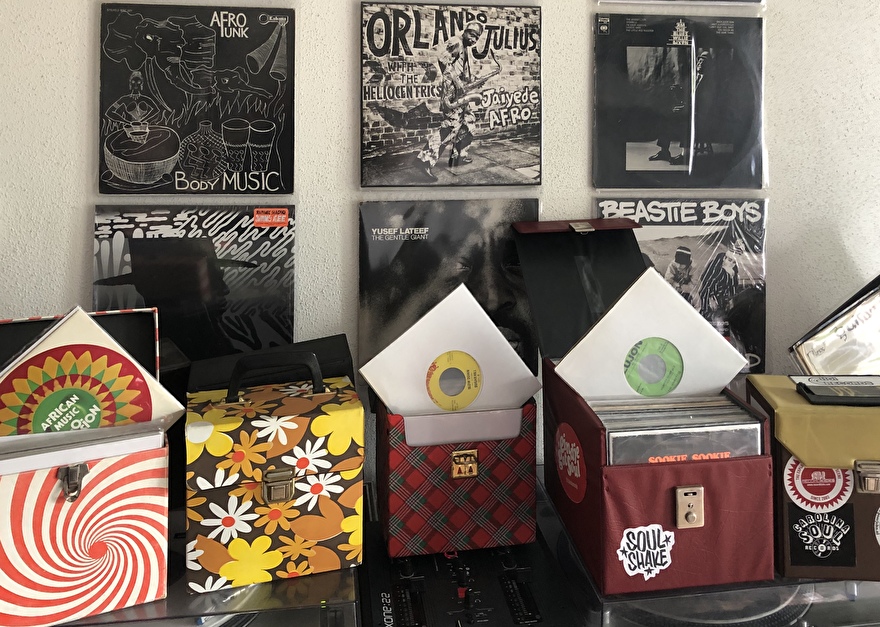 How is your collection organized? By artist, or genre, or period?
I've put the new releases from roughly the last 20 years on separate shelves and organized the rest kind of on genre. I don't like being too organized and I find some peace in the chaos. This doesn't always work out for me. For example, when I'm asked to do an interview and I'm looking for a specific record. J

Do you prefer new or used vinyl ?
I buy some new releases on 12" or 7" every month. I think there is still a lot of good, beautiful and relevant music created and being released on a monthly basis on vinyl. I also like to support independent labels and artists. For example, I'm absolutely hooked on Bandcamp. Besides that, I just love opening new records and putting them on the turntable for the first time. I always try to keep an open mind listening to new music but find myself always coming back to the same genres.
On the other side I also love going to flea markets, thrift shops and record fairs and digging through stacks of used records and 45's. Looking for things I know but mostly looking for things I don't know. I've given up hope that you actually find what you're looking for so I like to be surprised. Conclusion…. Do not really have a preference but when I comes down to original pressings vs re-issues, I choose original pressings. I rather not have a record in my collection than have a re-issue. #alwaysog After all, not having that record means you just haven't found it yet and gives you something to pursue.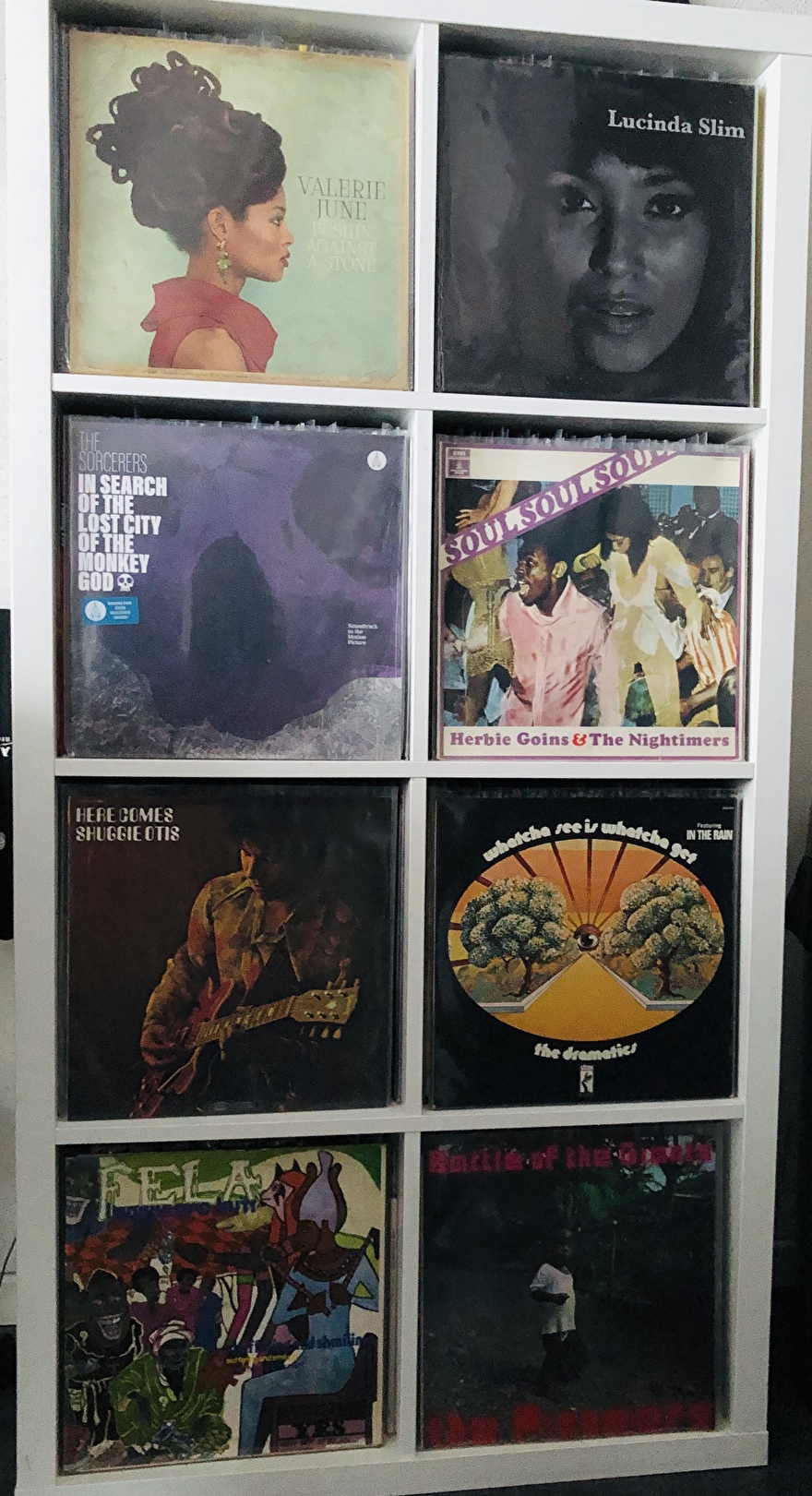 Is there a record you are currently looking for?
This changes every week. I often listen to other DJ's mixes on Mixcloud or other media and often run into tracks that I need or think I need. If you ask me about long-term wants, I would love to add the following LP and 45 to my collection:
- 100% Pure Poison – Coming Right At You
- Al Escobar & His Orchestra – Tighten Up / The Horse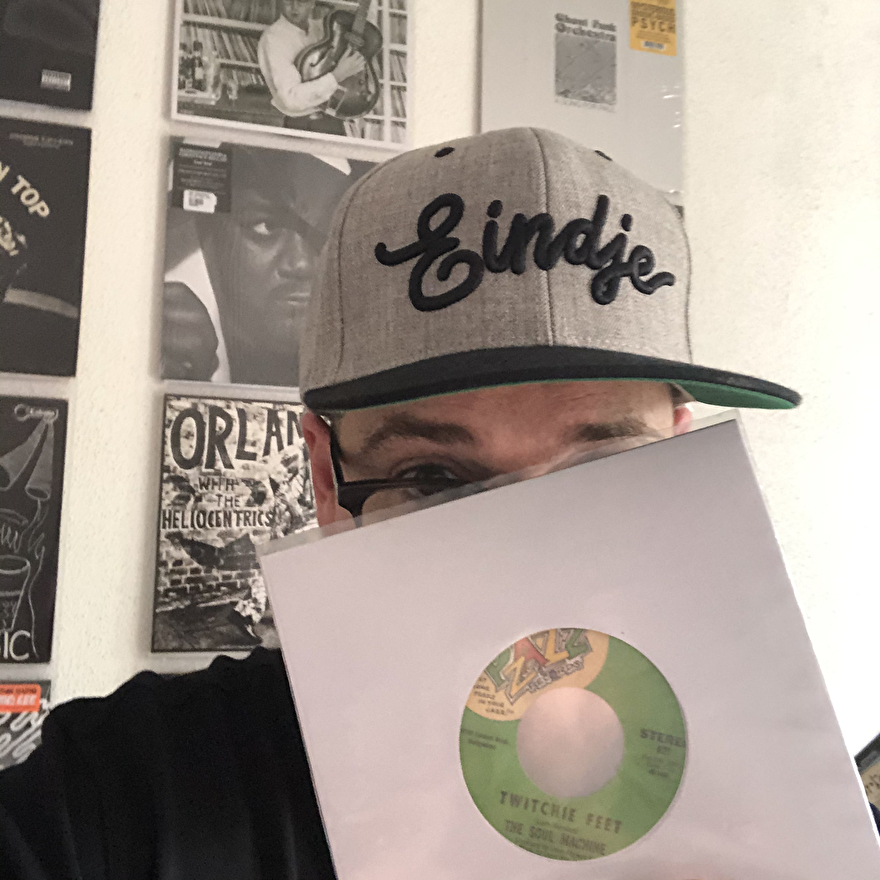 If you had to choose the prettiest sleeve, which one would you choose?
Tough question… If I like the music on the record, I often learn to appreciate the cover. If I like the cover but I am not liking the music, I get a negative vibe from the cover. If I have to choose, I'll pick the covers from "Impulse!". First of all, the photos and colors on the covers are always really sweet. The cover is most of the time a beautiful gatefold and pressed on really sturdy material. You really get the impression that you're holding some quality piece of work in your hands. Last and the best thing about Impulse! is when you have these records on your shelve you absolutely instantly recognize the label. If you have 100 albums on a row, I'd pick out an Impulse! in less than 5 seconds. That's some quality marketing! If I have to pick a favorite "Impulse!", it's probably "A Love Supreme" from Coltrane but only because I'm a sucker for black and white covers. Plus, that album is magical from start till end and is in 2020 still next level.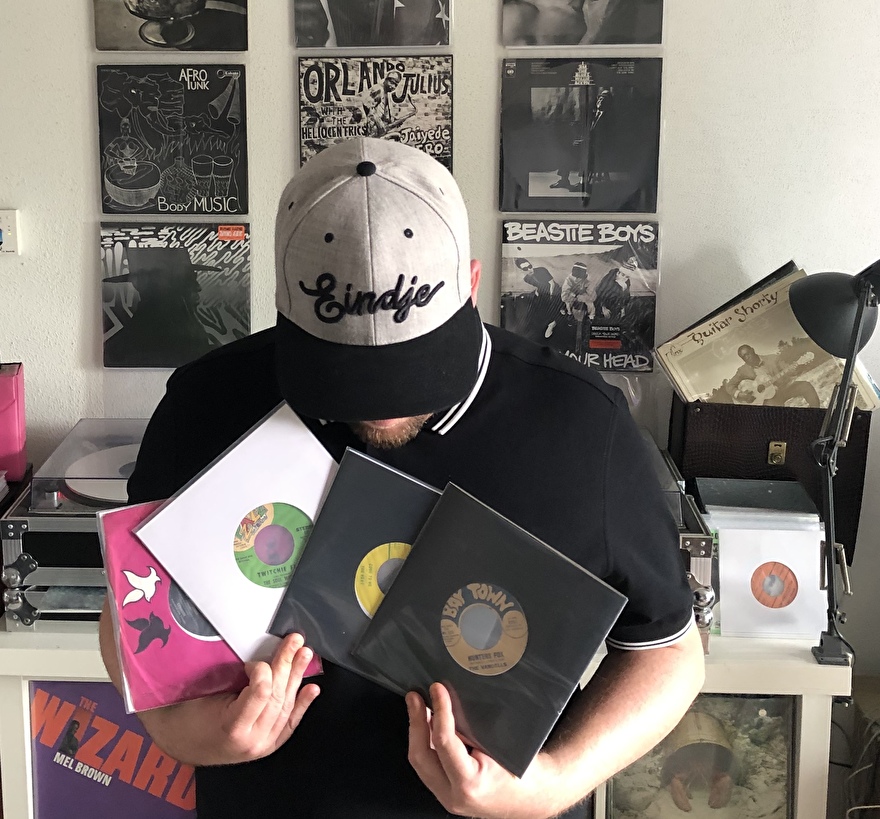 Can you name a record with an unsightly sleeve?
When it comes down to records with ugly covers, I find myself thinking about Disco, Schlager and Pop records from the late seventies and eighties. Ugly pictures, ugly colours and way too much going on. Also, those late nineties hip-hop records from Master P's No Limit records were very gly with al the gold, diamonds and dogs and all that. Awful, but beauty is in the eye of the beholder so….

If I have to choose from my own collection things get tougher. I think the cover from Bloodstone's Unreal is pretty ugly but also hilarious. It's also a very underrated soul group in my opinion. Here it is: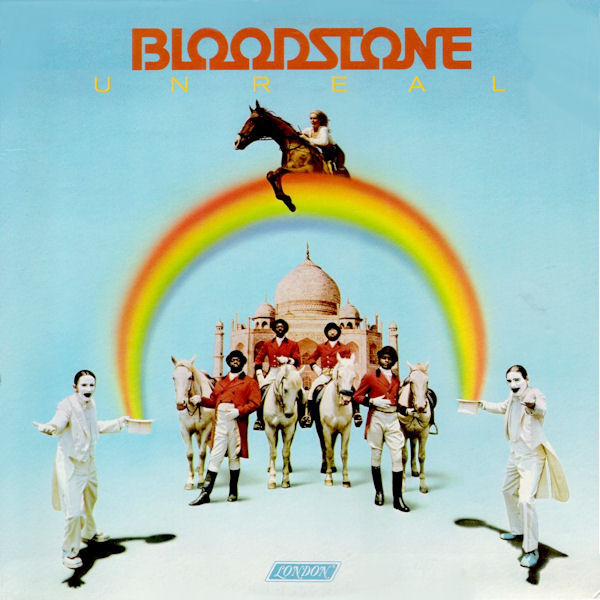 What's the biggest 'bad buy' you ever made?

I do a bad buy every other month or so. When I go to a thrift shop or a flea market, I never bring a portable and I hardly ever check Discogs on my phone. As I started living a lot smaller about 4 years ago the bad buys have been fewer and I've become very selective with what I bring home. Most of the time it means I buy nothing. I do always bring known things and easy to sell pop records that I usually sell within the week. Most of these bad buys vary from 10 cents to 2 euro so it's manageable.

Off course like most collectors (I guess) I did a bad buy in a record store or a record fair a couple of times. This usually concerns buying 45's for twice the usual rate, bad conditions or bootlegs sold as originals. This sucks, but through the years you learn to know the fair dealers and shops. Besides that, over time you gain more and more knowledge about records, conditions and how to check if a record is a bootleg. It's been maybe 5 years since I last did a bad buy that cost me more than 2 euro. I often check in the store or crates for records that I know, and I often get an idea if the pricing and grading is fair. These can be very expensive lessons and I'm avoiding my fair share of shops and dealers at fairs because of these lessons. J