Record collectors come in all ages, shapes and sizes. We want to dedicate a part of this website to collectors we met along the years. In episode 7, please meet Niels!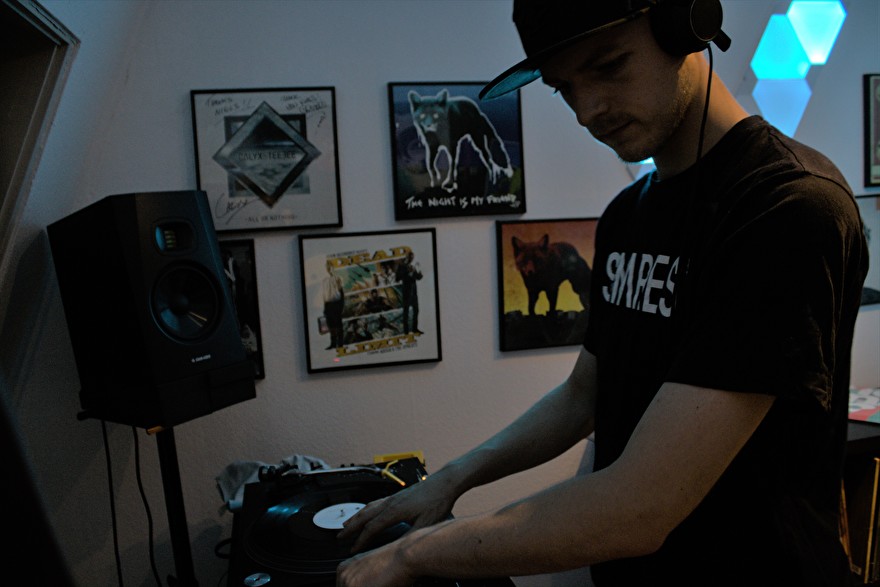 Hi there! My name is Niels Ottenheim and I'm a DnB (Drum and Bass) DJ living in Nijmegen. I used to live in Roermond (in the same street as Jottem Record Shop was once situated) and there is where it all started for me.
After my high school I figured I wanted to learn how to DJ Hip Hop music. Turntablism blew my mind (do youself a favor and check DJ Craze, A-trak and Kentaro for example, absolute legends). And the way a skilled DJ could elevate a hip hop show was insane to me. After my first turntables, mixer and a few records were a fact I quickly learned the importance of beatmatching with vinyl. I couldn't blend tunes at all and was pretty much at a loss. I had no idea how to practice this skill I wanted to learn so badly.
Back then I never really went out to parties or bars, I didn't even know about Drum and Bass music at that time. I came to 'Planet Jungle' by accident (I decided to join friends as I had nothing else to do on this friday night). Planet Jungle was a Drum and Bass party in the 'Azijnfabriek' in Roermond. I couldn't believe my ears and instantly fell in love with the high-paced-super-energetic-breakbeat-music when I heard it. And after that I have travelled through all of the Netherlands and Belgium for every DnB party that had a lineup that peaked my interest for years.
I started collecting some Drum and Bass tunes as this was way easier for me to practice my beatmatching skills. And suddendly I was buying so many Drum and Bass tunes I loved that it quickly surpassed my Hip Hop collection. I love the way DnB can be mixed , just really blend tunes together and make it one cohesive piece of music. I never really looked back on when I tried to blend Hip Hop, so I still cannot really mix Hip Hop that well. I fully concider myself a DnB-DJ now, and a collector of Hip Hop, and I'm fine with that.

How many records are currently in your collection?

My collection consists of 1218 items in total. Some are full albums, some are singles. I have my entire collection listed on Discogs so that's how I know exactly how many items I have got. I started listing all my records on discogs when I started streaming on Twitch from time to time. This way viewers can see and request the tunes I have, and it makes for a nice conversation from time to time.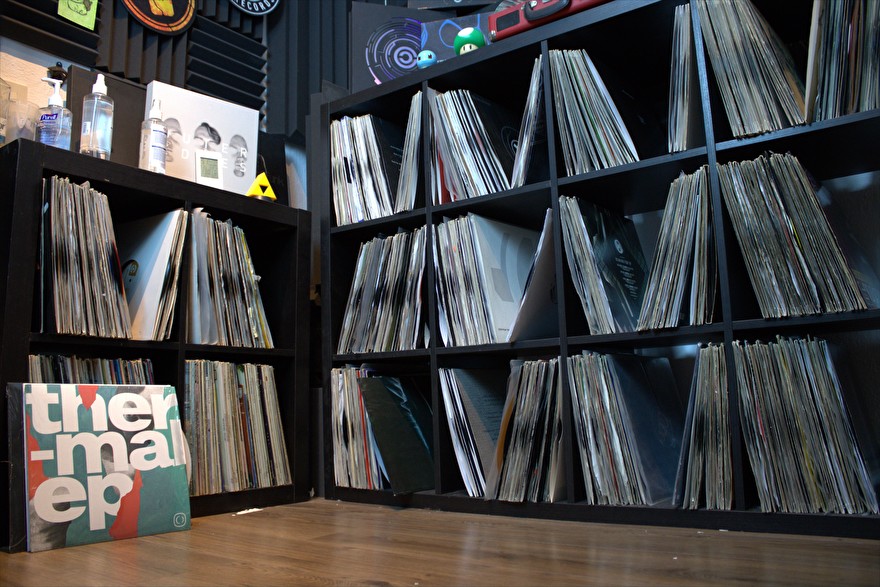 Which genres of music do you have in your collection?

Mostly Drum and Bass music. I have a wide range of DnB music ranging from the oldest to the newest. Drum and Bass music has got a lot of sub-genres as well, and I have a nice collection across all the spectrum of DnB music. I also own about 150 hip hop albums, and singles. I also own a few breakbeat records and some random records I really love. An example of a random record is the soundtrack from the EPIC game "Cuphead" on vinyl, which my girlfriend gave me for my birthday.
How is your collection organized? By artist, or genre, or period?

I have put a huge amount of work in organizing my collection, so that I am able to find the record I want as quick as possible. I have sorted my Drum and Bass by recordlabel, and within that selection I have sorted them by release number. So for example: I have 23 releases from Vision Recordings, and those 23 are oldest to newest release date from left to right.For the labels from where I only have a few releases, I have sorted these per sub-genre (and/or style) as it seems most logical for me.
My Hip Hop collection is seperated from the Drum and Bass and is sorted per Artist name.


What's the record that started it all?

My first record(s) were a few Hip Hop records I found at a small shop called "Ezelsoortje" in Roermond. Unfortunately this shop no longer exists, it closed quite fast after my first purchase there.
A Tribe Called Quest – Can I Kick It
Kurtis Blow – If I Ruled The World
Beastie Boys – Brass Monkey (7")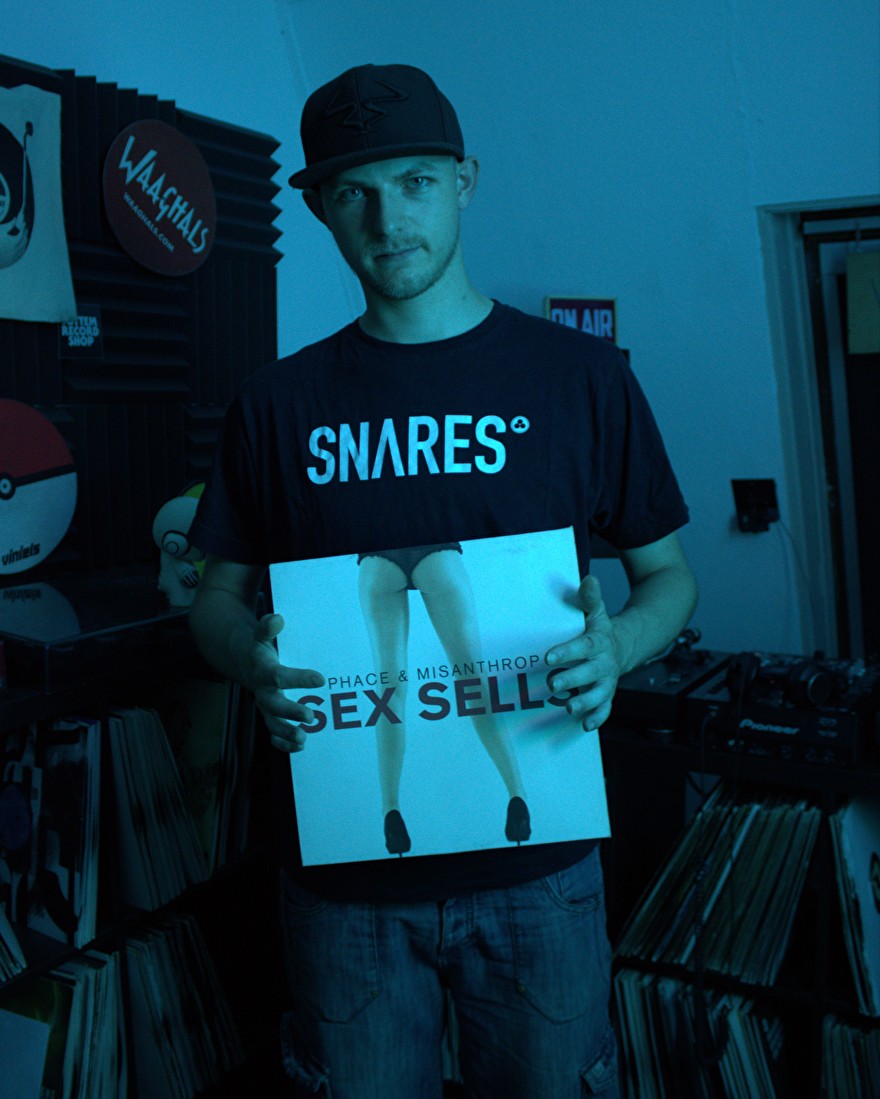 Do you prefer new or used vinyl ?

I mostly prefer new, I love tearing the plastic of the records and the smell it gives when you pull it out of the sleeve for the first time. No fingerprints, dust and/or scratches on a vinyl looks and sounds great! On the other hand I really like going through the used vinyl crates as well and see what gems some people have let go. My biggest problem with digging is that I cannot really stop when I have started until I've checked everything I want to check. And after which I cannot unselect records I have already bought in my head, so it is often quite expensive for me to go and look in the used vinyl section.
A lot of vinyl I am after is very hard, often even impossible to find new. Thats okay with me, I don't really mind buying used vinyl against a fair price. I am a DJ so I am not keeping this collection to keep everything in mint condition. My vinyl is there to be played and loved.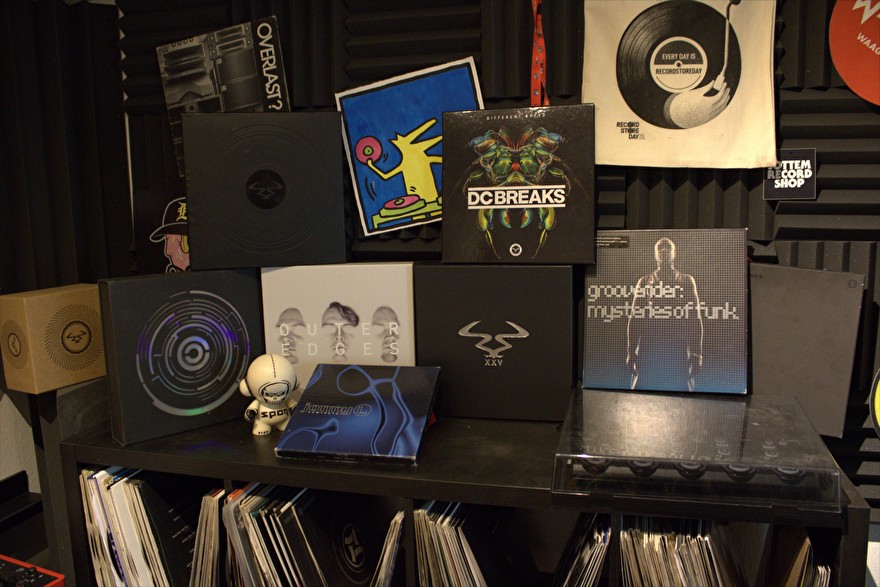 Is there a record you are currently looking for?

YES THERE IS. I have a wantlist on my discogs page as well, which only keeps growing. I have listed a few examples of records I really really really want/need to own (it's almost like I am an addict):
- ANY Onyx album - especially "All We Got Iz Us". (I really love Onyx and do not own a single album or song from them, it re needs to be added to my collection)
- Tribe Of Issachar Feat. Peter Bouncer - Junglist. (This is such a classic, really a must have for any junglist/DnB head + I love the Lords of the Undergrounds samples that are used in this tune ofc.)
- Richie Brains - 'Who Is Richie Brains' LP. (Super experimental Drum and Bass supergroup, really pushing the sonic boundaries).
- Ed Rush & Optical - Travel The Galaxy LP. (Chubrub is one of my all time favorite tunes. I am really missing this in my collection).
- Disturbed - The Sickness LP. (Do I really need to explain this? Really?)
- The Legend of Zelda - Ocarina Of Time Soundtrack. (One of my favorite videogames with an awesome soundtrack as well, really a must have for a vinyl-collector/gamer).
What is your favourite / most beautiful record cover?

First of all what a shitty question haha. This is a really difficult question for me as I really love multiple covers but all for different reasons.
My favorite Hip Hop cover is hands down: Madvillain - Madvillainy. I cannot really explain why but this album is just perfection. The music as well as the artwork.
I also love the cover for the "WU-Massacre" album, which is drawn by MARVEL.
For Drum and Bass I cannot really point a clear winner. I really love most of Noisia's atwork for their label Vision Recording. But the cover from Collosus EP by Billain is a masterpiece as well (the music ain't too shabby eighter). The "Kings of the Rollers LP" cover is up there as well, as it has some sort of Habbo-Hotel look with so many weird and funny things happening in there. And I can keep the list going on and on, there is some real sick stuff among there.
"The Day Is My Enemy LP" from The Prodigy is one of my favorites as well,. Such a slick cover. I've hung it on my wall ever since I bought it and have never even concidered taking it off.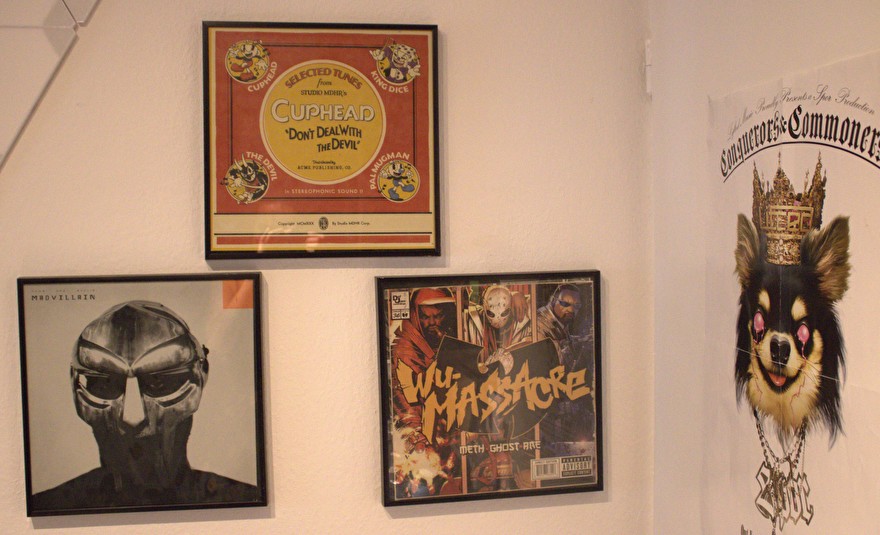 What is your ugliest record cover?

I have a LOT of really ugly sleeves. A sleeve is ugly in my opinion when I just do not understand what I am looking at, and that tends to happen a lot in electronic music. Especially in the nineties where photoshop was not big as it is now, and some covers seem to be created in microsoft paint. They just do not make any sense to me.
2 Weeks ago I have bought my roughest record cover, its just a black sleeve but the condition it is in is so rough. But the tune is a remix from "the good the bad and the ugly" by Origin Unknown so I had to have it.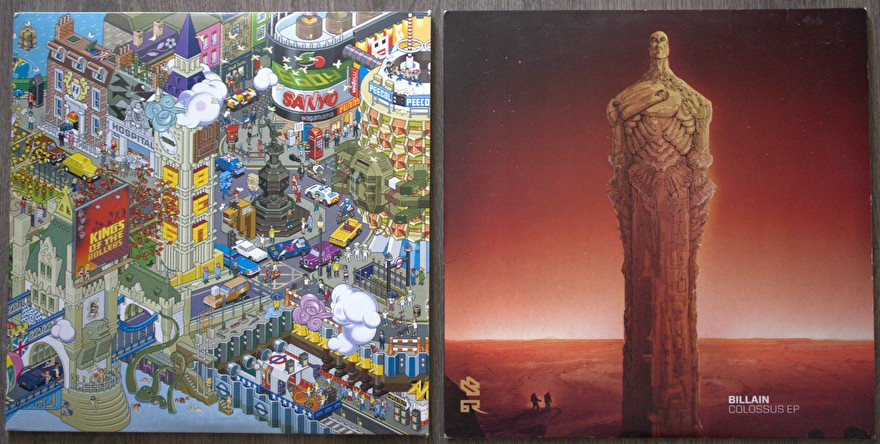 Do you have more than one copy of certain titles?

I have some records I own duplicates off. I was just being stupid and ordered the same vinyl multiple times.
Last week an error was made with a shipment of mine, where I received 2 vinyls I already owned. I contacted the seller and he said please keep the vinyl, luckily my best friend owns even more vinyls then I do, so I will pass these on to him.
What' has been your worst purchase, record wise?

There is a shop in Nijmegen which has such a terrible way of pre-listening the records that I just buy them as a little gamble from time to time.
It has a huge amount of second hand electonic music, and all those genres are mashed together as 1 collection in the back of the store.
When you buy records there it is always a surprise how they really sound as the headphones and amp that are set up are super super bad. This way I have bought a few records that sounded cool on the device in the store, but when I got home the records sounded awfull. But in this section I have found a couple of gems as well really cheap, so I am not complaining about this and will take this gamble any time I am in there. Maybe I will bring my own turntable, amplifier and headphone next time (just kidding).

What is the highest amount you've ever spent on one record?

I have once paid 100 euro's for an original pressing of: "Full Clip: A Decade of Gang Starr".
When Patrick, the owner of Jottem records, pointed this record out to me I had to think for a few minutes because of the price, but then I figured that leaving the store without this album was not really an option. Still have not regretted this decision for even a brief moment.
Can you go on a holiday and not visit a recordshop?

Sure! But when I am strolling though a city, and notice a record shop I need to check this out. But it is not like I am searching record stores beforehand. Records are quite difficult for travelling as they are super fragile. But its always nice to scroll a bit through the stores collection.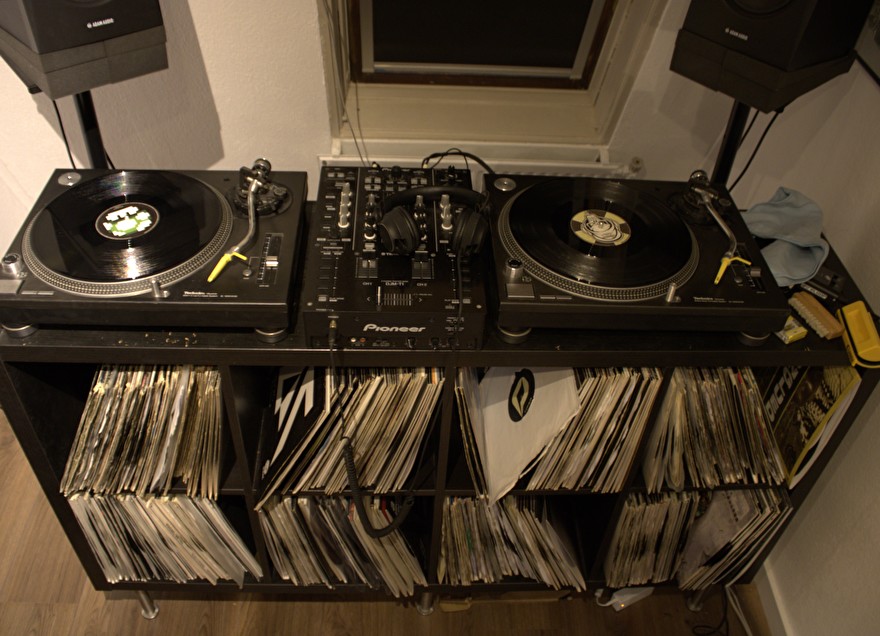 Any last words?!

Be sure to check my DJ-sets on twitch sometime if you are interested in Drum and Bass DJ Sets! http://www.twitch.tv/vinielsdnb
Or even better: check TMOCS his streams! He's the biggest drum and bass channel on twitch and he is insanely skilled. I just Had to put some advertisement for him in here somewhere. He spins 3 deck vinyl sets on his page http://www.twitch.tv/tmocs . From time to time we stream together, and its on his channel as well.

Discogs Link: https://www.discogs.com/user/Vinielsdnb/collection