Record collectors come in all ages, shapes and sizes. We want to dedicate a part of this website to collectors we met along the years. For our latest episode we spoke to Joost Peeters. Enjoy the read and pictures!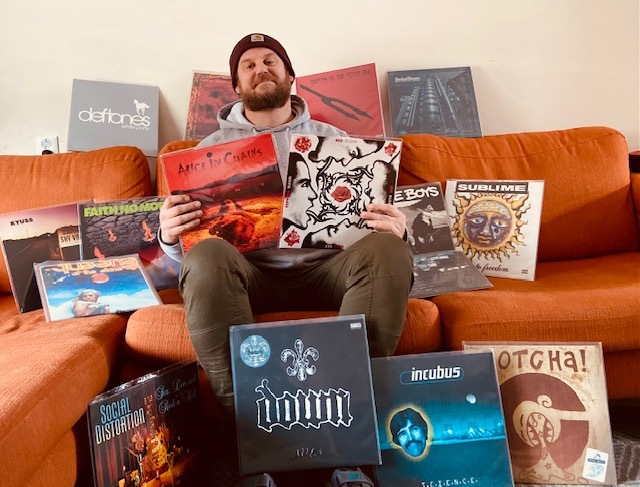 My name is Joost Peeters, I am 45 years old and I live in Roermond. As a profession I'm an ambulatory attendant at the GGZ and in my free time I spend a lot of time with my family and friends. I've also been an amateur musician for years and have been playing bass guitar for almost 30 years. In the past on a pretty high level, with my former crossover-metal band Concubine and a few years ago with Colossa.
At the same time I participated in the Roermondse doom/sludge orchestra Bitcho and many others in which I momentarily played or fell in (for example Mindfold and Sparrow Falls).
Nowadays I take it easy as a hobby musician in the genre reggae/rocksteady/rock/ska.
This band doesn't have a name yet, even though we do have an Instagram account that's currently under the name areureggae?!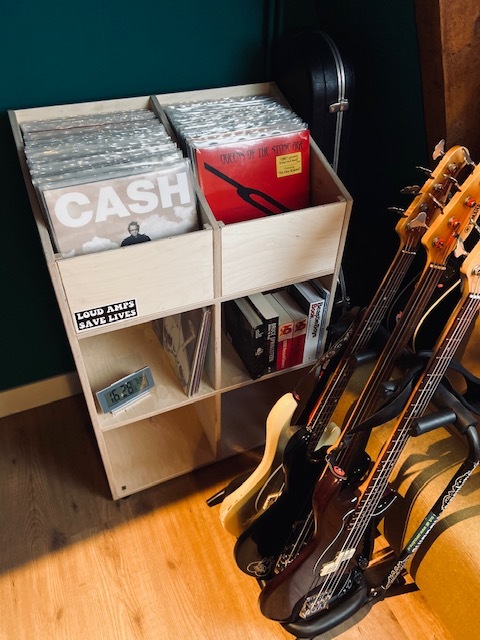 There were reunion plans with Concubine in 2020 with some nice shows planned too (like Het Bevrijdingsfestival in Roermond and Gaellus Open Air in Tienray), but they all got cancelled by corona. I don't see it happening in 2021, but I hope it's possible in 2022. Then it'll be more than 20 years ago that we performed at Pinkpop (a Dutch music festival) with Concubine!
Making my own music is something that I'll always continue on doing. It has always been my escape and the thing I live off of. Without music, no life for me. It sounds more dramatic than it actually is, but I'm sure I'm not alone in this.
Through the years, we've experienced some of the best 'on-the-road' stories as a band, which we still talk about up until this day. Giggle worthy material and of course amazing memories. Evening-filling conversation material for us.

How many records are currently in your collection?
I just so happened to have recently scanned my entire collection in Discogs. I currently own 248 records. Not a lot yet, but all amazing albums in my opinion. I recently had some record cabinets made in my man-cave, and there's quite a bit of empty space left, so I can continue on with my collection. The music space in the attic isn't completely finished yet, but I'm well on the way. Once I'm finished, maybe I'll share a photo of it on my Instagram.

Which genres of music can we find in your cabinets?
Funk, ska, reggae, hip-hop (minimum, but with a big love for the Beastie Boys and Dela Soul/3 Feet High And Rising), stoner, grunge, rock, alternative, emo, hardcore, punk, crossover, metal, sludge and doom.
Pretty variated but overall some tougher stuff.
Interested in my collection? Take a look at my Discogs! http://www.discogs.com/user/joostpeeters
How is your collection organized? By artist, or genre, or period?
In the Discogs app everything is sorted alphabetically, a really convenient way to sort out my collection. Recently scored some dividers from you, therefore my collection is even more organised.
Which record started it all?
That goes all the way back to 1983! On my 8th birthday I got Thriller by Micheal Jackson. My mom's record collection was also a 'go-to'. I'm talking about Kate Bush and the Blues Brothers, but also Dire Straits, Bruce Springsteen… I don't remember what else. Very various anway.
What's your favourite album?
That's a hard one. I personally love multiple genres and I find it very hard to make one or two choices. In the pictures you can see my top 16, but I can easily add more to this list. Too much love so to speak.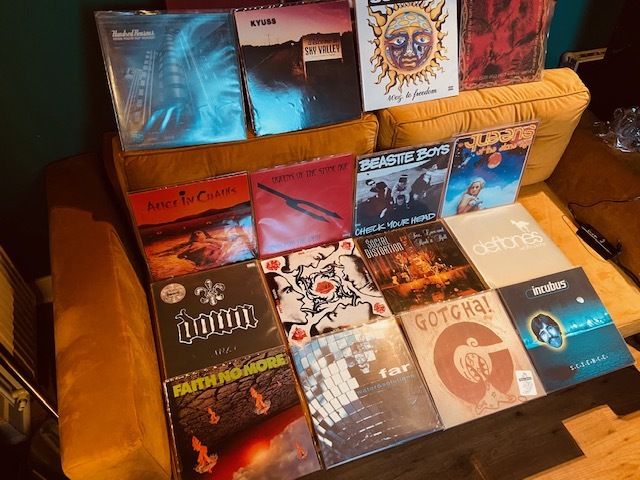 Do you prefer new or used vinyl ?
I mostly own new vinyl, but also some used ones. Right now I'm mainly focusing on buying my cd-collection on vinyl.
I personally don't care if it's an original pressing or not, but if so that of course is a nice bonus.
Music wise I grew up in the nineties, or at least that's when my own taste and choice in music started showing. Around that time I also started making my own music. When I was around 15 or 16 I started playing bass guitar. Before this I also had guitar lessons for a short period of time, but that didn't work out.
My ultimate dream was to become a drummer, but my parents didn't really like that idea since we lived in a terraced house. However, not a long time after that I started playing the bass and with my bass amplifier I could be heard throughout the block.Eventually I still ended up playing a rhythm instrument.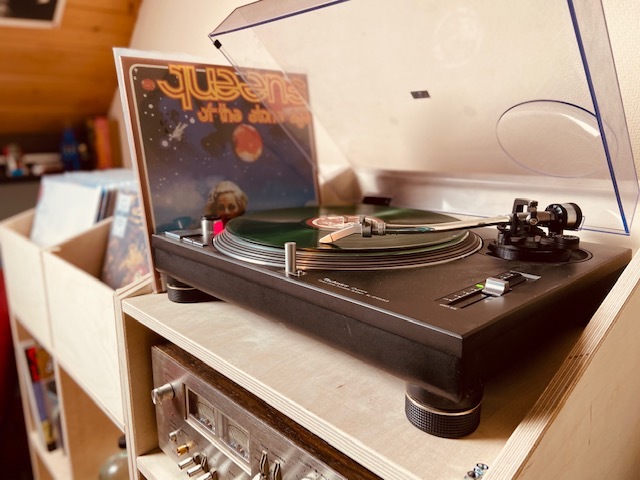 Is there a record you are still looking for?

Right now I don't really have a clear choice in this, even though my DIscogs Wantlist does consist of 'Sons of Kyuss' by Kyuss (a demo from 1990) and some records from Rollins Band. To the people who don't know Kyuss, recommended! Especially if you like stoner-rock. I buy my vinyl kind of 'as it goes'. At times I will buy a lot, and then I will buy nothing for a while.
If you had to choose the prettiest sleeve, which one would you choose?
I can't immediately choose just one, so I chose several. 'King of the road' by Fu Manchu, 'Ritual De Lo Habitual' by Jane's Addiction, 'Queens Of The Stone Age' by Queens Of The Stone Age and 'Transistor' by 331 are the ones that attract me most.


Can you name a record with the ugliest cover?
The ugliest cover is a hard one. Every cover has a thought behind it, but 'Meantime' by Helmet. However, it's a great album full of staccato like riffs.

Do you have more than one copy of certain titles ?

I do own some albums twice. I own 'License To Ill' by Beastie Boys (an original Canadian pressing from 1986 and a recent one from MOV), 'Nola' by Down (a reissue and an unofficial release), 'Ten' by Pearl Jam (a reissue and an unofficial release) and 'Songs for the Deaf' from Queens of the Stone Age (a reissue and an unofficial release) twice.
Besides the fact that they are four really cool albums, I like having multiple versions.So if I come across more versions of certain records then I will certainly not let it slide.
This can be anything in itself, but it will mainly be albums that have been illustrative for me or simply special to me.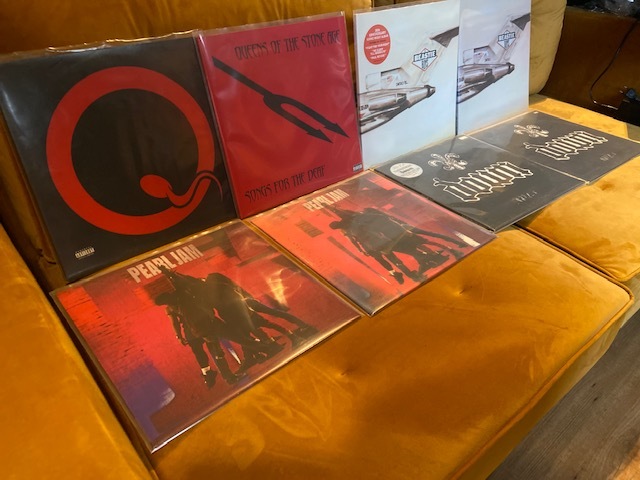 What's the biggest 'bad buy' you ever made?

I don't really have any. I buy my vinyl really targeted. However, I did once buy an album twice because I thought it wasn't in my collection yet ('Soul Searching Sun' by Life of Agony). The Discogs app now gives me an overview of this.
What is the most amount of money you've ever spent on one album?

I rarely ever do this, but €70 is the most money I've ever spent on an album. This was the original pressing of 'Ideas Above Our Station' by Hundred Reasons. Currently you can only get this album in original pressing, but I simply had to have it on vinyl.

Can you go on a holiday and not visit a recordshop?

I haven't been able to do this yet. I don't go on vacations that much, but when I do I always look for local record stores.
STAY CONNECTED WITH JOOST:

www.instagram.com/concubinemusic98
www.instagram.com/joostpeeters75